20 Feb

Scrap Metal Items for Recycling in Oak Lawn, Illinois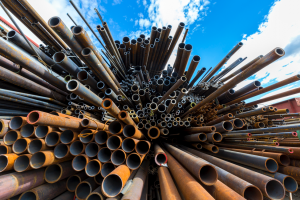 Recycling metals is a great way to help the environment, help the economy, and make a little extra cash. All you have to do is find some metals and take them to your local metal recycling center near Oak Lawn, Illinois.
Not sure which types of metals you should be looking for? If so, this article should be of some use to you. Below, we're going to review some of the most commonly recycled metal items.
Soda Cans
Odds are, at some point in your life, you've recycled a soda can. While the majority of soda cans are recycled in curbside recycling pickup containers, they can be submitted to recycling centers as well.
Interested in recycling your soda cans in the Oak Lawn area? Go ahead and bring them to the Central Metal Recycling facility today!
Soup Cans
Just as soda cans are recyclable, so too are soup cans. Made out of steel, they can yield a decent monetary return when submitted in large bundles.
Our suggestion is to store them up over time and bring them in once you've accumulated a few pounds. Before turning them in, make sure that they're entirely cleared of any food residue.
Work Tools
Do you have any old, deteriorated work tools in your possession? If so, you should consider recycling them. Hammers, screwdrivers, ratchets, and other miscellaneous work tools are usually made out of steel, which means they can be submitted to a recycling center in exchange for a decent amount of cash.
Furniture
While not all furniture does, a good deal of furniture contains metal. You can find metal in everything from recliners, to couches, to tables, to chairs, and much more.
If you have any furniture that you're looking to get rid of, a metal recycling center would be happy to take its metal components off your hands.
Fencing
Maybe you just installed a new fence and have old fencing sitting on your property? If so, and if it's made of metal, you would be wise to submit it to a metal recycling facility. Steel, aluminum, and wrought iron fencing can all be recycled, and will yield a fairly decent monetary return upon submission.
Household Appliances
Maybe you have an old refrigerator that you're looking to dispose of? Perhaps you have a broken-down washer or dryer in your garage? Whatever the case may be, if you have old metal appliances in your possession, you should think about recycling them.
All types of metals can be found in home appliances, some of which are highly valuable. You're eventually going to have to get rid of them somehow, so you'd might as well have them recycled.
E-Scrap
Electronic objects are filled with metal components. This is true of computers, batteries, and a variety of other entities. The vast majority of the metal components contained within these items can be recycled.
Sporting Goods
Do you have old sporting goods equipment laying around the house or garage? If so, and if they're made out of metal, they can be submitted to a metal recycling center. Everything from golf clubs, to aluminum baseball bats, to basketball hoops are recyclable, and can yield a reasonable monetary return.
Looking for a Scrap Metal Recycling Center in Oak Lawn?
Do you have metal items that you'd like to recycle? Looking for a scrap metal recycling center in Oak Lawn, Illinois? If so, Central Metal Recycling is the recycling center you seek.
We accept all types of metals, including steel, brass, copper, aluminum, and a variety of others. Accepting both big and small submissions, we provide compensation for each piece of metal that we receive.
Contact us now to start recycling!