19 Aug

Brass Recycling in Brookfield: A Guide from a Brookfield Metal Recycling Company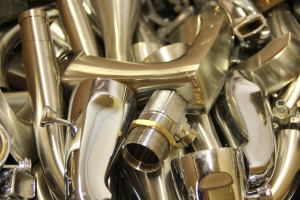 Though it's not one of the most commonly recycled metals, brass is still recycled on a fairly regular basis. Used to make a number of products, it's fairly easy to come by, and can usually be submitted to metal recycling centers in exchange for a reasonable financial reward.
Do you have brass items to recycle? Hoping to learn a little more about the recycling of brass in Brookfield, Illinois? Then read below. This is the article for you.
Brass Items to Look Out For
While brass isn't the most commonly used metal, it can still be found in a wide variety of items. Some of the most commonly recycled brass items include the following.
Plumbing
Though it's not true of all plumbing entities, many are made out of brass. These entities include everything from pipes, to fixtures, to sinks and more.
If you're looking to overhaul your plumbing system, you would be wise to hold onto the discarded items. When added up and recycled together, they can command a fairly substantial monetary reward.
Locks
Locks are made out of a variety of metals, including steel, iron, and, in some cases, brass. Brass was a common lock material 20 to 30 years ago, so, if you're replacing the locks soon, you could very well have some brass to recycle.
Gears
Another commonly recycled brass item is the gear. Brass gears are most commonly found in watches and clocks, but they can be found in a variety of other products as well. While they won't command much of a monetary return when submitted individually, when submitted in large batches, they can make you quite a bit of money.
Valves
Brass is also used to make a wide variety of the valves existing in the world. These include everything from check valves, to ball valves, to globe valves, to pinch valves and more.
If you have any car or hose valves laying around your garage, you should think about recycling them as well. This is particularly true if you have a large volume of them.
Musical Instruments
There are quite a few musical instruments that are made out of brass, all of which could potentially be recycled. These include, but aren't limited to trumpets, trombones, saxophones, and French horns.
If you have these instruments in your possession, but find that they are no longer in working order, you should strongly consider submitting them to your local metal recycling center. The amount of brass contained in an instrument of this kind could yield a fairly substantial monetary reward. After all, a baritone saxophone weighs in at around 11 pounds.
How Much Money Can Be Made Through Brass and Metal Recycling?
There is plenty of money to be made in brass recycling. Because brass isn't recycled as commonly as other metals such as steel and aluminum, metal recycling centers are willing to pay a premium for it.
Generally, recycled brass sees a monetary return between $1.20 and $1.60 per pound. This puts it second only to copper in terms of financial value. Therefore, if you can find substantial amounts of brass, you can make quite a bit of money from recycling it.
Looking to Recycle Metal or Brass in Brookfield? 
Do you have brass items in your possession? Looking to recycle metal of brass in Brookfield, Illinois? If so, the metal recyclers with Central Metal Recycling are the people to see.
We accept all manner of brass items, including but not limited to the items reviewed above.  Regardless of the size of your brass submission, we will reward it with monetary compensation.
Recycle your metal and brass today by contacting us now!